Bootstrapping 101 is for existing and wannabe small business owners.
It also is for the experienced corporate person who is ready to make the plunge into starting his/her own  business. It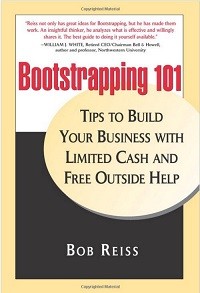 emphasizes proven, practical tips requiring little or no money and where and how to get free assistance. It shows entrepreneurs how to grow their business with less money than they thought they needed. It also steers them to free quality advice.
Topics covered include:

Cash free ideas on barter, publicity, advertising, the internet, selling, outsourcing, networking, factors

Acquiring and keeping customers

Places to find free, quality help

Maximizing profits through correct pricing

Creating and understanding a cash flow statement

Non-traditional ways to get money
 The latest  of  Bob's Blog postings …
Even if your product has a long and happy run in the marketplace, it's likely to reach the end of its run eventually, and leave you with a significant inventory on hand. Welcome to your first closeout! Think of this as an entrepreneurial rite of passage: If you're in the game long enough, you're almost sure to go through it.
Don't let your commitment to your product blind you to reality. There will be products that you love that just don't sell. When that happens, and after you're convinced you've done absolutely everything you could have done to make this product a success, it's time to throw in the towel and move on to another product. Close it out!
[...] Read more »
Click for Blog Archive of 100 Plus Articles